Mit dem Laden der Karte akzeptieren Sie die Datenschutzrichtlinien von Google sowie das Laden von Google Schriftarten.
Mehr erfahren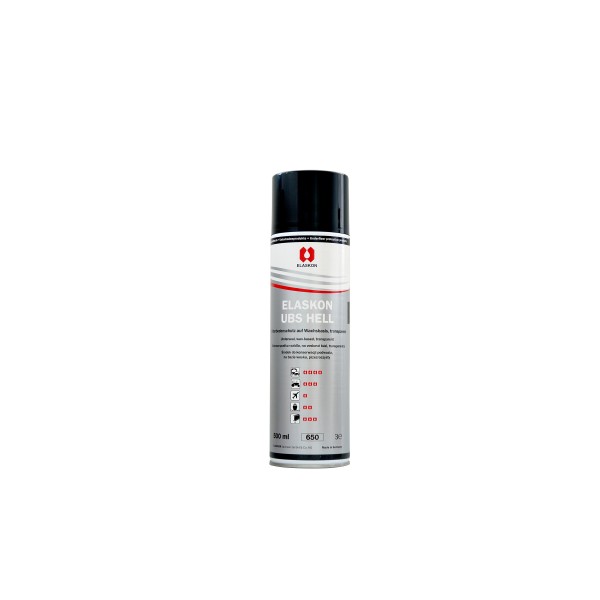 Content:
0.5 Liter (€28.02 * / 1 Liter)
Prices incl. VAT plus shipping costs
Ready to ship today,
Delivery time appr. 1-3 workdays
Order number:

50127099

Open text field 2:

Gebindespezifische Gefahrensätze. Siehe Sicherheitsdatenblatt! Das Produkt ist außer in der Aerosoldose nur für den berufsmäßigen Verwender bestimmt!
Bitte beachten Sie die Gefahrenhinweise zu diesem Artikel.
Mehr dazu.



Gefahrwort: Gefahr!
ist ein Unterbodenschutz für die Anwendung bei PKW, LKW und Bussen. bleibt elastisch...
more
Product information "ELASKON UBS hell"
ist ein Unterbodenschutz für die Anwendung bei PKW, LKW und Bussen.
bleibt elastisch
hell, transparent
---
Eigenschaften:
Elaskon UBS hell ist ein wachsartiges Korrosionsschutzmittel. Der Schutzüberzug ist plastisch und zäh, nicht klebend und von hervorragender Haftfähigkeit. Das Produkt schützt wirkungsvoll gegen Wasser und Schmutz, Steinschlag sowie gegen chemische Taumittel. Das Produkt ist im getrockneten Zustand verträglich mit Elektrokabeln, Kunstoffen und Dichtungsmaterialien. Negative Einflüsse sind nicht bekannt. Auch die kurzzeitige Einwirkung des enthaltenen Lösemittels hat erfahrungsgemäß keine Auswirkungen.
---
Lagerung:
Im geschlossenen Originalgebinde mind. 1 Jahr.
---
Verarbeitungshinweise:
Elaskon UBS hell sollte in dünnen Schichten mit einer Druckbecherpistole in Verbindung mit einer Flachstrahl-Winkeldüse aufgetragen werden (z. B. VAUPEL Druckbecherpistole 3000 DVR inkl. Hohlraumsprühset 3900 WHSK). Empfohlener Arbeitsdruck: 3 bar. Mischungsverhältnis Luft/Material 60/40. Die Oberflächen müssen von Rost und Verschmutzungen gereinigt sein (ISO 8501-1, St2). Die Temperatur der Oberfläche des zu behandelnden Werkstückes muß mind. 3 °C über dem Taupunkt liegen. Verarbeitungstemperatur ist Raumtemperatur. Elaskon UBS hell wird im Anlieferungszustand verarbeitet. Vor Gebrauch umrühren, Sprayflaschen gut schütteln.
DIN 5510-2 'Brennverhalten und Brandnebenerscheinungen von Werkstoffen und Bauteilen - Klassifizierung, Anforderungen und Prüfverfahren' stellt keine Anforderungen an temporäre Korrosionsschutzmittel dieser Art.
Das Produkt ist außer in der Aerosoldose nur für den berufsmäßigen Verwender bestimmt!
---
Technische Daten
Stand: 11.02.2013
Elaskon UBS hell
Feststoffgehalt
>20
%
Auftragsmenge
120-150
g/m

2

Trocknungszeit
< 5
h
Dichte (15 °C)
DIN 51757
0,81
g/cm

3

Flammpunkt
DIN EN 22719
ca. 30
°C
Auslaufzeit (25°C, #4)
DIN 53211
ca. 10
s
Gebrauchstemperaturbereich
-30 - +70
°C
Die von uns verarbeiteten Rohstoffe und Fertigprodukte unterliegen strengsten Qualitätskontrollen. Die Angaben entsprechen unseren
derzeitigen Kenntnissen und dem Normalfall. Sie befreien den Verbraucher nicht von eigenen Prüfungen. Eine rechtlich verbindliche
Zusicherung bestimmter Eigenschaften oder eine konkrete Eignung, kann aus unseren Angaben nicht abgeleitet werden. Evtl.
bestehende gesetzliche Regelungen, die die Handhabung und den Einsatz der Produkte betreffen, sind vom Empfänger unserer
Produkte selbst zu beachten. Es gelten unsere AGB.
Related links to "ELASKON UBS hell"
| | |
| --- | --- |
| | GHS02: Flamme |

| | |
| --- | --- |
| | GHS07: dickes Ausrufezeichensymbol |

| | |
| --- | --- |
| | GHS08: Gesund­heits­gefahr |

Gefahr!

H226: Flüssigkeit und Dampf entzündbar.
H304: Kann bei Verschlucken und Eindringen in die Atemwege tödlich sein.
H336: Kann Schläfrigkeit und Benommenheit verursachen.
H412: Schädlich für Wasserorganismen, mit langfristiger Wirkung.

P210: Von Hitze, heißen Oberflächen, Funken, offenen Flammen sowie anderen Zündquellenarten fernhalten. Nicht rauchen.
P235: Kühl halten.
P331: Kein Erbrechen herbeiführen.
P301+P310: Bei Verschlucken: Sofort Giftinformationszentrum, Arzt oder … anrufen.
P370+P378: Bei Brand: … zum Löschen verwenden. (Die vom Gesetzgeber offen gelassene Einfügung ist vom Inverkehrbringer zu ergänzen)
P501: Inhalt / Behälter gemäß den behördlichen Vorschriften entsorgen.