Mit dem Laden der Karte akzeptieren Sie die Datenschutzrichtlinien von Google sowie das Laden von Google Schriftarten.
Mehr erfahren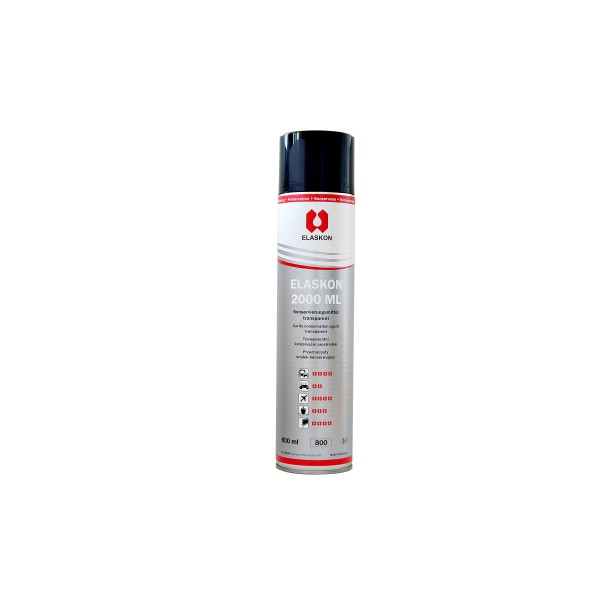 Content:
0.6 Liter (€23.32 * / 1 Liter)
Prices incl. VAT plus shipping costs
Ready to ship today,
Delivery time appr. 1-3 workdays
Bitte beachten Sie die Gefahrenhinweise zu diesem Artikel.
Mehr dazu.

Gefahrwort: Achtung!
ist ein temporäres Korrosionsschutzmittel für metallische Oberflächen (Metallkleinteile), zur...
more
Product information "ELASKON 2000 ML"
ist ein temporäres Korrosionsschutzmittel für metallische Oberflächen (Metallkleinteile), zur Kfz-Hohlraumkonservierung, für Nutzfahrzeuge aller Art, für land- und forstwirtschaftliche Geräte. Auch für Chromteile geeignet.
gute Haftung auf metallischen Oberflächen
optimaler Korrosionsschutz
transparent
auf Wachsbasis
---
Eigenschaften:
Elaskon 2000 ML enthält ein Lösemittel. Nach Verdunstung des Lösemittels wird ein dünner, grifffester Film auf allen Oberflächen gebildet. Zur leichten Verarbeitung bzw. Aufbringung niedrigviskos eingestellt. Bei ordnungsgemäßer Anwendung werden die konservierten Flächen zuverlässig vor Korrosion geschützt.
---
Verarbeitungshinweise:
Elaskon 2000 ML kann bei Normaltemperatur durch Sprühen, Tauchen oder Streichen auf gereinigte Metalloberflächen aufgebracht werden. Eine günstige Verarbeitungstemperatur für Flächenanwendungen ist ca. 25-35°C, für Hohlraumkonservierung 40-50°C. Die Ausbildung des Konservierungsstoff-Filmes erfolgt bei ausreichender Luftbewegung nach 2 – 8 Stunden.
Goldmedaille für das Produkt auf der Leipziger Messe.

---
Lagerung:
Im geschlossenen Originalgebinde bei max. 30°C. Bei Lagerung
---
Technische Daten
Stand: 10.09.2013
Elaskon 2000 ML
Dichte (15°C)
DIN 51757
0,82
g/cm

3

Flammpunkt
DIN EN 22719
ca. 40
°C
Viskosität (Auslaufbecher Düse 4/25 °C
ASTM D7042
ca. 30
s
Brechpunkt (75 g/m

2

) (Festmasse)
DIN EN 12593
< - 30
°C
Tropfpunkt (Ubbelohde), (Festmasse)
DIN 51801, Teil 2
>80
°C
Die von uns verarbeiteten Rohstoffe und Fertigprodukte unterliegen strengsten Qualitätskontrollen. Die Angaben entsprechen unseren derzeitigen Kenntnissen und dem Normalfall. Sie befreien den Verbraucher nicht von eigenen Prüfungen. Eine rechtlich verbindliche Zusicherung bestimmter Eigenschaften oder eine konkrete Eignung, kann aus unseren Angaben nicht abgeleitet werden. Evtl. bestehende gesetzliche Regelungen, die die Handhabung und den Einsatz der Produkte betreffen, sind vom Empfänger unserer Produkte selbst zu beachten. Es gelten unsere AGB.
Related links to "ELASKON 2000 ML"
| | |
| --- | --- |
| | GHS02: Flamme |

Achtung!

H226: Flüssigkeit und Dampf entzündbar.
H412: Schädlich für Wasserorganismen, mit langfristiger Wirkung.

P210: Von Hitze, heißen Oberflächen, Funken, offenen Flammen sowie anderen Zündquellenarten fernhalten. Nicht rauchen.
P301+P312: Bei Verschlucken: Bei Unwohlsein Giftinformationszentrum, Arzt oder … anrufen.
P370+P378: Bei Brand: … zum Löschen verwenden. (Die vom Gesetzgeber offen gelassene Einfügung ist vom Inverkehrbringer zu ergänzen)
P501: Inhalt / Behälter gemäß den behördlichen Vorschriften entsorgen.