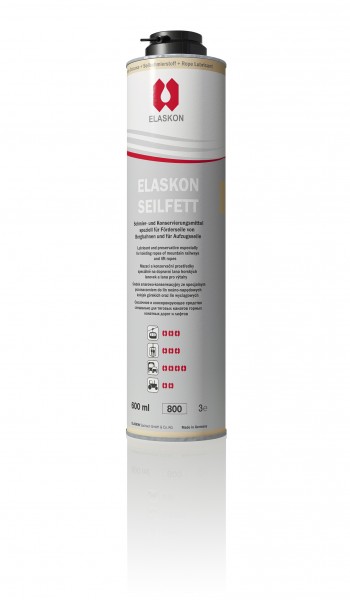 Content:
0.6 Liter (€26.68 * / 1 Liter)
Prices incl. VAT plus shipping costs
Ready to ship today,
Delivery time appr. 1-3 workdays
Bitte beachten Sie die Gefahrenhinweise zu diesem Artikel.
Mehr dazu.

Gefahrwort: Gefahr!
ist ein Nachschmiermittel zur Schmierung und Konservierung von Drahtseilen. Es wird speziell bei...
more
Product information "ELASKON Seilfett"
ist ein Nachschmiermittel zur Schmierung und Konservierung von
Drahtseilen. Es wird speziell bei Förderseilen von Bergbahnen und bei Aufzugseilen
eingesetzt. Infolge der guten Kriech- und Haftfähigkeit auch als Unterbodenschutz im
Kfz-Bereich und als Hohlraumkonservierung geeignet.
Eigenschaften:
Elaskon Seilfett ist flüssig und enthält ein aromatenfreies Lösungsmittel. Nach
Verdunstung des Lösungsmittels wird ein grifffester Film auf den Oberflächen gebildet.
Es ist feuchtigkeitsunterwandernd und verfügt über gutes Haftvermögen bei optimalen
Korrosionsschutzeigenschaften.
grünlich, transparent
hohe Haftung
niedrigviskos eingestellt
leichte Verarbeitung
optimaler Korrosionsschutz
Lagerung:
Im geschlossenen
Originalgebinde mind.
5 Jahre.
Verarbeitungshinweise:
Elaskon Seilfett wird in flüssiger Form angeliefert und kann mittels Sprühen, Streichen,
Rollen o.ä. bei Normaltemperatur auf die Seiloberfläche aufgebracht werden. Nach
Verdunsten des Lösungsmittels, je nach klimatischen Verhältnissen 2-8 Stunden, ist
der Schmierfilm fertig ausgebildet. Die optimale Verarbeitungstemperatur liegt bei
20°C.
Erfüllt die ISO 4345, ISO 3156, DIN EN 12385-8, die Österreichischen
Drahtseilbedingnisse DSB 80.
Dichte (15°C) DIN 51757 0,85 g/cm³
Flammpunkt DIN EN 22719 > 63 °C
Viskosität (40°C) DIN 51562, Teil 1 22 mm²/s
Viskosität (Auslaufzeit bei 25°C, #4) DIN 53211 ca. 20 s
Brechpunkt (75 g/m²) (Festmasse) DIN EN 12593 <-53 °C
Tropfpunkt (Festmasse) DIN 51801, Teil 2 >85 °C


Related links to "ELASKON Seilfett"
| | |
| --- | --- |
| | GHS02: Flamme |

Gefahr!

H222: Extrem entzündbares Aerosol.
H229: Behälter steht unter Druck: kann bei Erwärmung bersten.

EUH066: Wiederholter Kontakt kann zu spröder oder rissiger Haut führen.

P210: Von Hitze, heißen Oberflächen, Funken, offenen Flammen sowie anderen Zündquellenarten fernhalten. Nicht rauchen.
P211: Nicht gegen offene Flamme oder andere Zündquelle sprühen.
P251: Nicht durchstechen oder verbrennen, auch nicht nach der Verwendung.
P410+P412: Vor Sonnenbestrahlung schützen und nicht Temperaturen von mehr als 50 °C aussetzen.