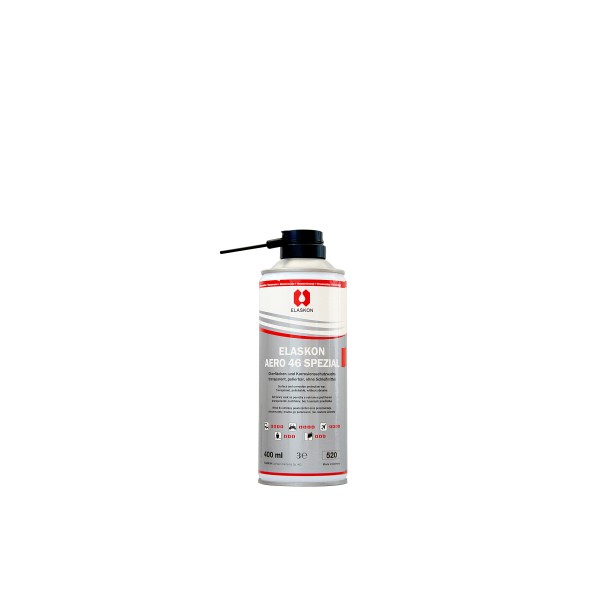 Content:
0.4 Liter (€53.75 * / 1 Liter)
Prices incl. VAT plus shipping costs
Ready to ship today,
Delivery time appr. 1-3 workdays
Order number:

51020098

Open text field 2:

Das Produkt ist außer in der Aerosoldose nur für den berufsmäßigen Verwender bestimmt!
Bitte beachten Sie die Gefahrenhinweise zu diesem Artikel.
Mehr dazu.



Gefahrwort: Gefahr!
ist ein Oberflächen- und Korrosionsschutzwachs für transparent vorgeschützte (lackierte,...
more
Product information "ELASKON AERO 46 Spezial"
ist ein Oberflächen- und Korrosionsschutzwachs für transparent vorgeschützte (lackierte, brünierte, verchromte usw.) sowie für ungeschützte Flächen. Lackreinigungs- und Konservierungsmittel für Kraftfahrzeuge.
transparent
gute Haftung auf metallischen Oberflächen
optimaler Korrosionsschutz Eigenschaften
ohne Schleifmittel
---
Eigenschaften:
Elaskon Aero 46 spezial hat eine erhebliche chemische Widerstandsfähigkeit gegenüber verschiedenen Säuren und Laugen sowie Öl und Fett. Es ist polierbar und
hat eine hohe Abriebfestigkeit. Die Wachsschicht ist kälte- und vibrationsbeständig. Das Produkt ist im getrockneten Zustand verträglich mit Elektrokabeln, Kunstoffen und Dichtungsmaterialien. Negative Einflüsse sind nicht bekannt. Auch die kurzzeitige Einwirkung des enthaltenen Lösemittels hat erfahrungsgemäß keine Auswirkungen.
---
Verarbeitungshinweise:
Elaskon Aero 46 spezial wird im Anlieferungszustand verarbeitet. Vor Gebrauch umrühren, Sprayflaschen gut schütteln. Nach dem Aufbringen abtrocknen lassen.
Elaskon Aero 46 spezial wurde von der Landesuntersuchungsanstalt für das Gesundheits- und Veterinärwesen Sachsen als Korrosionschutzmittel in Tierställen freigegeben.
Das Produkt ist außer in der Aerosoldose nur für den berufsmäßigen Verwender bestimmt!
---
Technische Daten
Stand: 28.02.2013
Elaskon Aero 46 spezial
Dichte (15°C)
DIN 51757
0,80
g/cm

3

Auftragsmenge
20
g/m

2

Trocknungszeit
< 3
h
Gebrauchstemperaturbereich
-50 - +90
°C
Flammpunkt
DIN EN 22719
ca. 30
°C
Auslaufzeit (25°C, #4)
DIN 53211
ca. 10
s
Die von uns verarbeiteten Rohstoffe und Fertigprodukte unterliegen strengsten Qualitätskontrollen. Die Angaben entsprechen unseren
derzeitigen Kenntnissen und dem Normalfall. Sie befreien den Verbraucher nicht von eigenen Prüfungen. Eine rechtlich verbindliche
Zusicherung bestimmter Eigenschaften oder eine konkrete Eignung, kann aus unseren Angaben nicht abgeleitet werden. Evtl.
bestehende gesetzliche Regelungen, die die Handhabung und den Einsatz der Produkte betreffen, sind vom Empfänger unserer
Produkte selbst zu beachten. Es gelten unsere AGB.
Related links to "ELASKON AERO 46 Spezial"
| | |
| --- | --- |
| | GHS02: Flamme |

| | |
| --- | --- |
| | GHS07: dickes Ausrufezeichensymbol |

| | |
| --- | --- |
| | GHS08: Gesund­heits­gefahr |

Gefahr!

H226: Flüssigkeit und Dampf entzündbar.
H304: Kann bei Verschlucken und Eindringen in die Atemwege tödlich sein.
H335: Kann die Atemwege reizen.
H336: Kann Schläfrigkeit und Benommenheit verursachen.
H412: Schädlich für Wasserorganismen, mit langfristiger Wirkung.

EUH066: Wiederholter Kontakt kann zu spröder oder rissiger Haut führen.

P210: Von Hitze, heißen Oberflächen, Funken, offenen Flammen sowie anderen Zündquellenarten fernhalten. Nicht rauchen.
P331: Kein Erbrechen herbeiführen.
P301+P310: Bei Verschlucken: Sofort Giftinformationszentrum, Arzt oder … anrufen.
P370+P378: Bei Brand: … zum Löschen verwenden. (Die vom Gesetzgeber offen gelassene Einfügung ist vom Inverkehrbringer zu ergänzen)
P403+P235: Kühl an einem gut belüfteten Ort aufbewahren.
P501: Inhalt / Behälter gemäß den behördlichen Vorschriften entsorgen.