ELASKON Multischaumreiniger
Mit dem Laden der Karte akzeptieren Sie die Datenschutzrichtlinien von Google sowie das Laden von Google Schriftarten.
Mehr erfahren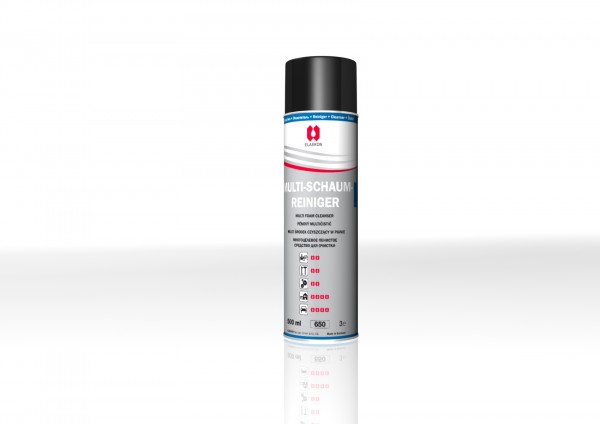 Content:
0.5 Liter (€19.00 * / 1 Liter)
Prices incl. VAT plus shipping costs
Ready to ship today,
Delivery time appr. 1-3 workdays
Bitte beachten Sie die Gefahrenhinweise zu diesem Artikel.
Mehr dazu.


Gefahrwort: Gefahr!
Im Haushalt: Zur Reinigung von Glas, Fenstern (einschließlich der Rahmen), Fliesen, Kacheln,...
more
Product information "ELASKON Multischaumreiniger"
Im Haushalt: Zur Reinigung von Glas, Fenstern (einschließlich der Rahmen), Fliesen, Kacheln, Emaille, Resopalflächen, Toilettengarnituren, Edelstahlspülen- und Sanitärarmaturen u.v.a.m.
Im Kraftfahrzeugbereich: Zur Reinigung von Glasflächen, Polstern, Amaturenbrett und Instrumenten. Entfernt wirkungsvoll Nikotin, Fett und Weichmacherrückstände.
Im Büro: Zur Reinigung von Bildschirmen. Schmiert nicht, klebt nicht, trocknet streifenfrei auf.
Anwendungshinweise:
Oberflächen aus ca. 20-30 cm dünn besprühen. Der feinblasige Schaum haftet auch an senkrechten Flächen und sorgt für eine gute Reinigungswirkung. Durch das Anlösen des Fett- und Schmutzfilmes bricht der Schaum und die Fläche kann mit einem weichen Tuch oder einer Papierserviette blankgerieben werden. Dose vor Frost unter - 10°C geschützt lagern !
hier geht es zum Anwendungsvideo bei YouTube
Related links to "ELASKON Multischaumreiniger"
| | |
| --- | --- |
| | GHS02: Flamme |

| | |
| --- | --- |
| | GHS07: dickes Ausrufezeichensymbol |

Gefahr!

H222: Extrem entzündbares Aerosol.
H229: Behälter steht unter Druck: kann bei Erwärmung bersten.
H319: Verursacht schwere Augenreizung.

P210: Von Hitze, heißen Oberflächen, Funken, offenen Flammen sowie anderen Zündquellenarten fernhalten. Nicht rauchen.
P211: Nicht gegen offene Flamme oder andere Zündquelle sprühen.
P251: Nicht durchstechen oder verbrennen, auch nicht nach der Verwendung.
P280: Schutzhandschuhe / Schutzkleidung / Augenschutz / Gesichtsschutz tragen.
P305+P351+P338: Bei Kontakt mit den Augen: Einige Minuten lang behutsam mit Wasser spülen. Vorhandene Kontaktlinsen nach Möglichkeit entfernen. Weiter spülen.
P410+P412: Vor Sonnenbestrahlung schützen und nicht Temperaturen von mehr als 50 °C aussetzen.