Mit dem Laden der Karte akzeptieren Sie die Datenschutzrichtlinien von Google sowie das Laden von Google Schriftarten.
Mehr erfahren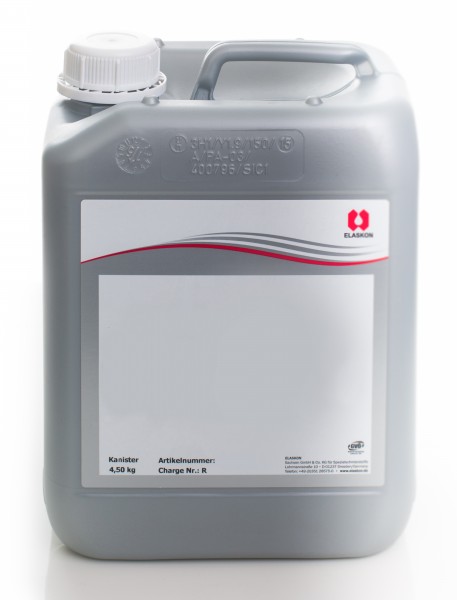 Content:
4.5 Kilogramm (€8.12 * / 1 Kilogramm)
Prices incl. VAT plus shipping costs
Ready to ship today,
Delivery time appr. 1-3 workdays
Bitte beachten Sie die Gefahrenhinweise zu diesem Artikel.
Mehr dazu.

Gefahrwort: Achtung!
ist ein lösungsmittelhaltiges Korrosionsschutzöl und wird zum Schutz von metallischen...
more
Product information "ELASKON KS-200"
ist ein lösungsmittelhaltiges Korrosionsschutzöl und wird zum Schutz
von metallischen Oberflächen während der innerbetrieblichen Lagerung und zur
Transportkonservierung eingesetzt.
Eigenschaften:
Elaskon KS-200 ist wasserverdrängend, auf Mineralölbasis mit speziellen
Kossosionsschutzadditiven. Nicht emulgierbar.
öliger Schutzfilm, nicht trocknend

Lagerung:
Im geschlossenen Originalgebinde mind. 1 Jahr.
Verarbeitungshinweise:
Elaskon KS-200 wird in flüssiger Form angeliefert und kann durch Sprühen, Streichen,
Tauchen o.ä. aufgebracht werden. Die Entfernung des Schutzfilms kann mittels
alkalischem Reiniger (z.B. Elaskon Reiniger 2000) oder Kaltreiniger (z.B. Elaskon
Reiniger) erfolgen.
Dichte (15°C) DIN 51757 0,88 g/cm³
Flammpunkt DIN EN 22719 80 °C
Viskosität (40°C) DIN 51262, Teil 1 55 mm²/s
Auftragsmenge 21 g/m²
Auftragsstärke (trocken) 23 μm
Related links to "ELASKON KS-200"
| | |
| --- | --- |
| | GHS07: dickes Ausrufezeichensymbol |

Achtung!

H319: Verursacht schwere Augenreizung.

P264: Nach Gebrauch … gründlich waschen. (Die vom Gesetzgeber offen gelassene Einfügung ist vom Inverkehrbringer zu ergänzen)
P280: Schutzhandschuhe / Schutzkleidung / Augenschutz / Gesichtsschutz tragen.
P305+P351+P338: Bei Kontakt mit den Augen: Einige Minuten lang behutsam mit Wasser spülen. Vorhandene Kontaktlinsen nach Möglichkeit entfernen. Weiter spülen.
P337+P313: Bei anhaltender Augenreizung: Ärztlichen Rat einholen / ärztliche Hilfe hinzuziehen.